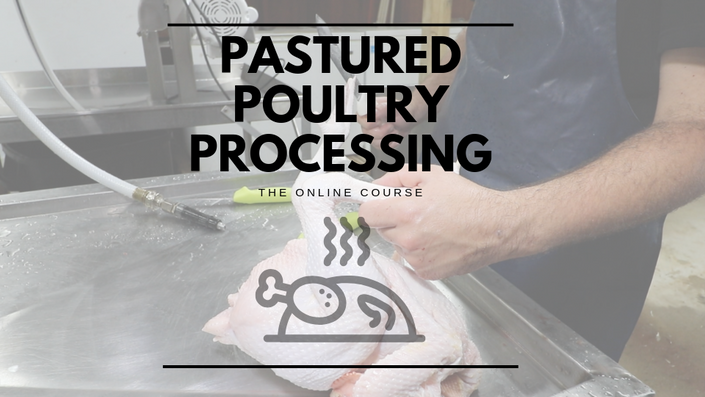 Pastured Poultry Processing Course
A definitive guide for processing birds profitably and efficiently on your farm.
If you want to process poultry on your farm where do you start?
What do you buy?
For most people the answer is... I DON'T KNOW

So they never move forward removing what may be their best option from the farm plan.

Don't worry... we have you covered.


What if you had a clear plan for processing on farm?
One that clearly told you where to start and what to do first.
One that gave you a list of the best equipment to buy.
One that showed you exactly what to do every step of the way.
One that gave you an inside look at what it is really like so you could see exactly what you were getting into.
Would you consider on farm processing then?
Would it give you more flexibility as a farmer?
Would it align more with your values being able to go from chick to freezer on farm?
Would it give you a competitive marketing advantage?
Would it eliminate a whole lot of driving to overbooked and unreliable processors?
If you could solve one or more of these problems by processing your own birds on your own farm, would you consider it?
If you would then read on…
Introducing Grassfed Life's Pastured Poultry Processing Course…
It's on-farm poultry processing simplified.
The Pastured Poultry Processing Course gives you complete how-to steps for processing poultry on your farm. From infrastructure and equipment to step by step video instructions showing pre-processing, processing, and post-processing cleanup nothing is left out.
You'll even have an up-close view of what it is like process 250 chickens in one day.
Everything is included so you can make a decision about if on-farm processing is right for you, and there's enough detail so you can hit the ground running with the right processes and equipment if processing on farm is right for you.
Save thousands of dollars in mistakes and hundreds of hours of wasted time by learning from a commercial poultry processor with a proven, profitable, and working model.
If you are considering on-farm processing, then this course is a must.
What's Included?
Focused video training that teaches you exactly what you need to do from figuring out if processing is right for you to legal and regulatory considerations to buying the right equipment to hiring labor to processing birds step by step.
With over 4.5 hours of streaming video, you see every step involved in a lot of detail
The Guide to Processing Poultry On Your Farm – Everything you need to get started – from regulatory concerns to hiring help to equipment selection.
The Practical Guide Poultry Processing – Step by Step Instructions so you can process like a pro from Day 1.
An Inside Look at Processing Day – Gain valuable insights into workflow and efficient process so you can maximize your time and labor when processing hundreds of birds in a day.
The Guide to Processing Tools & Equipment – Not sure where to start with equipment? Here is exactly what you need (and don't need).
Sales and Packaging BONUS LESSONS – The same piece of meat in a different package isn't the same piece of meat in the customer's mind. Learn how to package your product to get the most for it.
You will have lifetime access to all of the content for yourself and anyone else in your immediate household.
Here's just some of what you'll learn:
How one wrong purchase can literally cost you thousands of dollars. Don't waste your money experimenting with expensive equipment, we'll give you the best equipment to buy for your scale.
Never processed a chicken before? No problem. You'll see how to process a chicken step-by-step so you can step in and professionally process a bird on the first try. It's a lot easier than you think!
What steps in the process commonly get overlooked. You only have one chance to win a customer over, give them a poorly prepared product and you might lose that one chance.
The hardest part about processing chickens on farm isn't the processing. Ben will show you how to overcome one of the biggest challenges to on-farm processing and turn a major hurdle into a positive.
The common item that you will need more of than you ever expected. When it comes to processing on farm there are a lot of not so obvious nuances that are critically important and CANNOT be left out. Learn what they are so you aren't scrambling on processing day.
The not-so-obvious step in the process that you might not be doing that is likely costing you hundreds of dollars per year.
The truth about processing on farm. What it is really like and why processing on farm might be easier than you thought.
The BEST way to package your chicken to get the MOST money for it.
Take control of the whole process. You put a lot of care into raising your birds on pasture. Are you really OK handing them over to someone else to process? Learn how to set up an on farm processing facility that will give you more freedom, flexibility, and reliability.
NOT processing on farm might be your best option. There are a lot of factors to consider before you decide to process on farm, after considering those factors, processing on farm might not be best for you.
Note: The workshop is non-refundable.
Your Instructor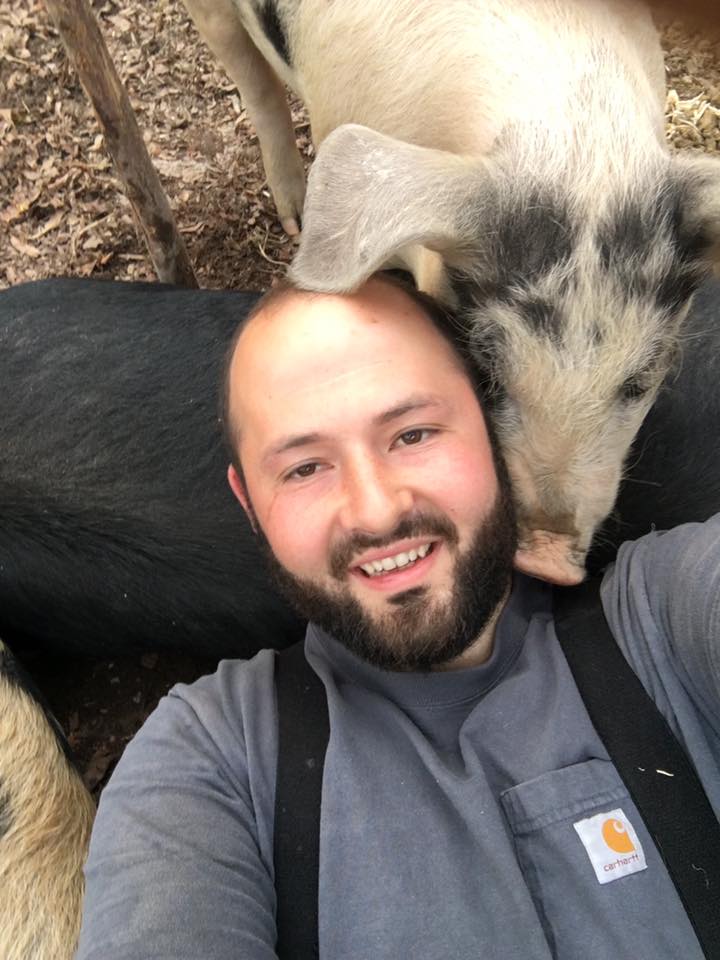 A West Coast city kid from tech savvy Seattle turned meat farmer and poultry processor in the rural south. Now owner of Dependable Poultry Proccesors, the largest poultry processor in the state of North Carolina and its sister business Dawnbreaker Farms. Each year we raise hundreds of pastured poultry and process thousands of ours and others. We have moved forward with our original mission to heal the land using livestock and are continually encouraged by the enthusiasm we receive from our customer base who love our product as much as we love growing them.
Course Curriculum
The Guide to Processing Tools & Equipment - Everything You Need
Available in days
days after you enroll
The Practical Guide Poultry Processing - Step by Step Instructions
Available in days
days after you enroll
Frequently Asked Questions
When does the course start and finish?
The course starts now and never ends! It is a completely self-paced online course - you decide when you start and when you finish.