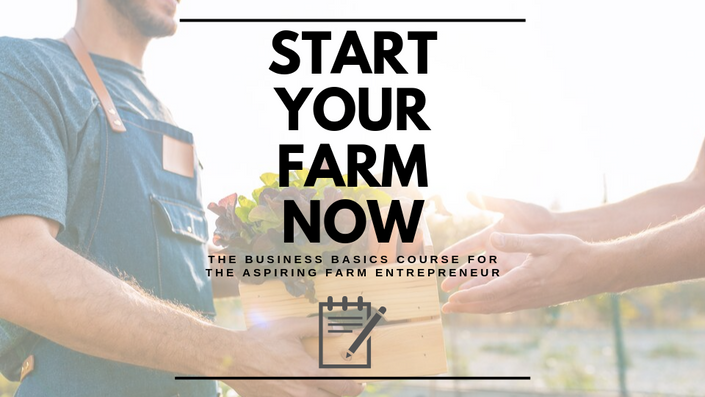 Start Your Farm Now - Sales, Marketing and Business Course
The Sales, Marketing and Business Basics Course for the Aspiring Farm Entrepreneur
Interested in starting a farm...
But you haven't run a business before?
Or do you like the idea of raising your family on a farm, but you aren't quite sure if you could make enough money doing it to support your family?
Or do you want to transition into livestock farming on a part-time or full-time basis?

You might have questions like...
What permits, insurance, and rules and regulations do you need to follow?
What's the correct business structure?
How much money do you need to start a business?
These are all common worries that people have when starting a business.
Start Your Business now answers these questions and more.
You will learn...
How do you transition into farming on a part time basis
How do you create your own Holistic Context so you can align expectations and action steps accordingly
Why most small businesses and farms fail
What are the important conversations that you need to have with your spouse/partner before starting a entrepreneurial venture
How do you financially plan for entrepreneurship and career transition
Is farming part-time a better fit than farming full-time for you
How to budget for farm enterprise start-up
How do you achieve a balanced lifestyle so you don't burn out and stick with the journey
What resources and skills do you currently have to work with
What is your unfair advantage
What mental issues might be holding you back
Scared to start, why, and how to overcome that fear
How to cash flow a startup farm
How to deal with the not so glamorous, but needed parts of the business – insurance, bookkeeping, entity formation
Create a realistic financial and career plan to turn your farm dream into a financially viable reality
Identify an approach that is manageable for you and your situation
Why farming might NOT be the right business for you, despite what you may initially think
How to create a financial plan for your business, to help take the stress out of starting a business
Why hard work isn't enough: Learn where to focus your efforts to save yourself time and money while increasing your productivity and profits
How to set yourself up for success: Learn proven success principles that allow you to adapt to most external circumstances and market conditions
How successful people problem solve and adapt in an ever changing world and marketplace
Learn how to stay the course: In the real world it's only the people who show up every day that survive in the long run
The course gives you an objective framework to plan your business from the ground up so you know what you are getting into BEFORE you start your business or spend any money.
All of the course material was put together by actual entrepreneurs who have started actual real-world businesses that are successful.
You will be able to learn from their mistakes and successes while cutting out a lot of trial and error.
The focus IS NOT on how to raise broiler chickens or raise pastured pigs.
The mechanics of livestock management are only a small portion of what makes an enterprise successful. There are many other pieces that need to be looked at to help achieve business success – time management, family management, financial management, aligning your expectations with the business, designing the business to meet your needs.
Failure to acknowledge and manage these other pieces will likely lead to issues down the line.
By focusing on the whole (you, your life situation, where you want to go, and what you need) you can strategically approach the business process in a way that matches your context which will help you avoid making emotional or impulsive decisions; decisions that could cost you a lot of time, money and energy.
The course is full comprehensive taking you from what makes farm businesses successful to financial planning for your business and personal life to making sure that the business you are thinking about is an actual fit for you and your life.
Once you decide on what your business will be you will get tangible tools and tactics to brand, market, and find customers.
Given that, each participant will finish the course having a clear and concise vision of what they want to do and get out of life, a starting plan for how to achieve that, and a mindset to help you stay on course.

Start Your Farm Now has been intentionally designed to help you plan out a complete, profitable, livestock based farm business that works for you.
What's Included?
You will have lifetime access to the following for yourself and anyone else in your immediate household...
Online Streaming Video (Over 9 hours):
Entrepreneurship 101
Whole Life Context
Financial Planning for the Entrepreneur
Market Analysis
Enterprise Selection
Forming and Organizing Your Farm Business
Branding Your Farm Products and Business
Marketing Your Farm Business
You, Your Supporters and Your Doubters
Considerations for Starting and Transitioning to A Farm Lifestyle
Digital Tools:
How To Select A Butcher Guide: A butcher is an extension of your business! This short guide will show you how to interview, rank and select the right butcher to partner with you on your farm business.
How To Select A Farmers' Market Guide: Not all farmers' markets are created equal, and they require a large amount of time and energy to participate in. In this guide, Darby walks you through a step by step approach on how to investigate, rank and ultimately select a successful farmer's market to sell your products at.
Bonus Videos:
Darby Simpson: Farm Marketing & Business Planning
Greg Judy: Profitable Methods Used to Heal the Land with Mob Grazing
Greg Judy: The Economics for Leasing Land
Upgrade Option:
At any time in the future, you can upgrade to the full Pastured Profits course and get credited back for the retail sales price of this purchase. Simply pay the difference and unlock all of the added benefits of the full course: 23 modules, enhanced resources, additional digital tools, and much more!
Note: The workshop is non-refundable.
Your Instructor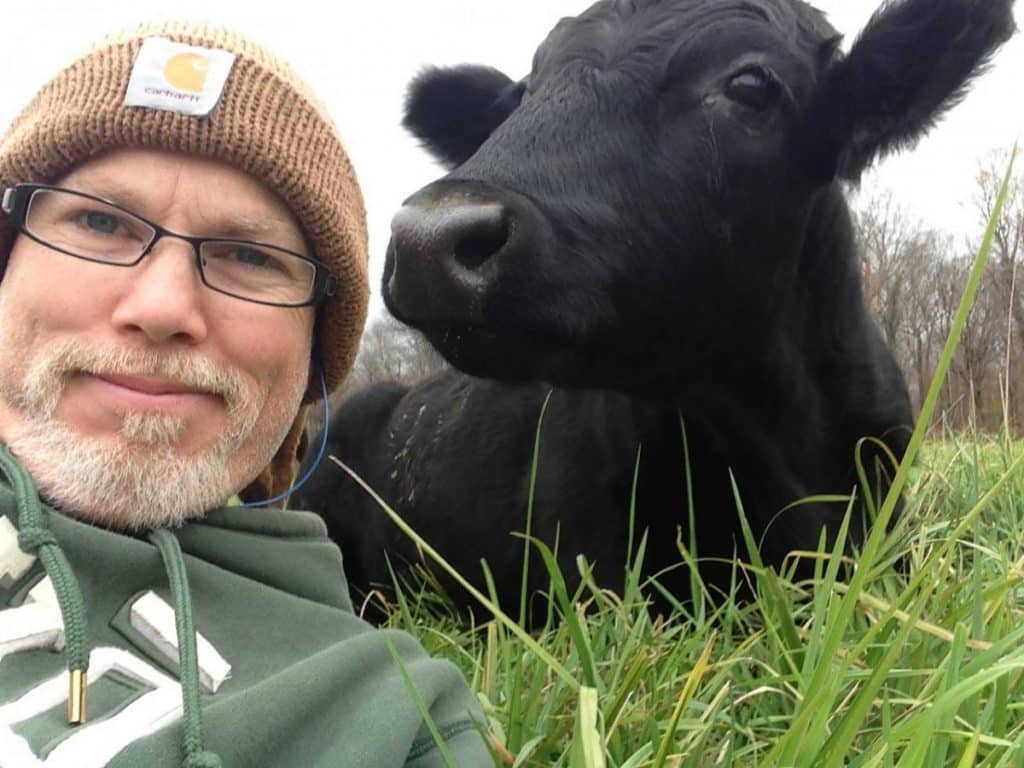 Darby's farming journey began in 2007 with just $600 and 50 broiler chickens on pasture.

Today the farm is producing nearly $200,000 in gross annual sales and provides a modest living for Darby, his wife and two children.
Darby successfully transitioned himself from the corporate world as a mechanical engineer into farming and this course is designed to help you do the same.
Frequently Asked Questions
When does the course start and finish?
The course starts now and never ends! It is a completely self-paced online course - you decide when you start and when you finish.